Search Engine Optimization
Home / Search Engine Optimization
Overview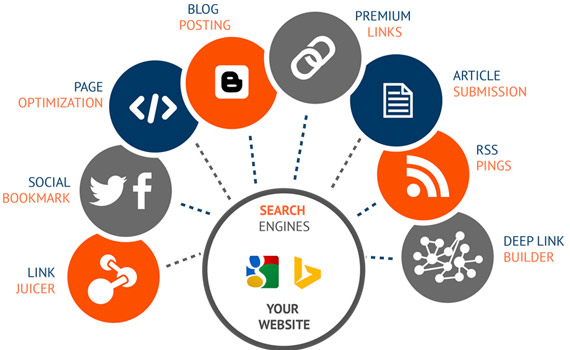 Search engine optimization is one of the most effective techniques for increasing online visibility it goes a long way in distinguishing a "brand". SEO attracts traffic to website by virtue of its unique content. Search engine optimization is not really that simple, but the bottom line is, if your page is optimized both on page and off, you generally get higher natural search engine rankings, which leads to traffic for you.
Website Audit
We offer full range website audit service performed by experts in that domain. Website Audit is usually undertaken to find out lacunas and loopholes that affect the inflow of traffic. It is mainly done keeping the marketing aspect in view to enhance and execute maximum visibility of the site in various search engines.
It generally includes a meticulous analysis of the website to improve the Search engine optimization results for the particular site. This phase passes through various stages of analysis which can include HTML validations, website statistics, indexed pages, duplicate meta descriptions, broken links etc.
We at KDC Technologies take absolute care in touching almost all aspects of Website Audit to give our customers complete peace of mind and include various audit points like Website Security Audits, Red flag and Recovery Audits, Conversion Optimization Audits, Website Health Audits etc.
We recommend to get in touch with us today and find out the quality of our website audit services to comply with your needs.
Keyword Research
Keyword research is the process of deriving keywords for a website SEO optimization, Without keywords there can be no SEO. Hence, to optimize the SEO results a research on the most viable and sought after words is mandatory to be incorporated in the website through content modifications. Though this sounds simple but this task requires an extensive research of the nature of business your organisation is aiming at and them matching it with the right and most sought after words that can optimize SEO results.
At KDC technology we undertake most advanced methods of keywords research to enable our customers in improving the SEO results thus increasing the inflow of traffic. Get in touch with us today and with the help of our experts you can plan the best option to trust your Keyword research work to.
Competitor Analysis
Competitor Analysis in SEO enables the organisation in finding out the strengths of its counterpart which helps them generate more traffic than the latter. It helps us in tracking the back links of our competitors website, their methodology, how strong are the back links on the competitors website, the unique keywords that they use to increase their SEO results, competitors on and off page strategy to boost their rank for targeted keywords etc.,
At KDC technology we partner with industry's leading experts who employ the most advanced and latest methods of competitor analysis to enable our customers in improving the SEO results thus increasing the inflow of traffic. Get in touch with us today and with the help of our experts you can plan the best option to trust your Keyword research work to.
On Page-Optimization
On page-optimization refers to the analysis and improvement of the meta titles, meta descriptions, meta keywords, alt tag, website speed optimization, content development, content optimization, image optimization, broken links, H1-H5 tag optimization, call to action analysis etc.,
At KDC we employ advanced and meticulous methods of On page-optimization with help of our team of experts who have years of profound experience in providing excellent results to clients in and out of India. Get in touch with us today to explore the potential of KDC.
Off Page-Optimization
Off page-optimization refers to the improvements in keyword rankings like directory submission, social bookmarking, blog posting, guest posting, article posting, press release postings, video submissions, document submissions, web 2.0, niche submission etc. In simpler words this technique helps in ranking the keywords to seek the top position in search results. Our SEO experts have latest and advanced techniques and tricks in off page optimization to boost the traffic inflow. Our team has has profound experience in implementing white hat techniques and google algorithm policy to implement in off-page optimization for any website. We generate only relevant and useful back links for the web page with industry matching and theme based back links.
SEO Content Development
SEO or the search engine optimization is a process of introducing the most relevant and sought after industry related words in search engines. The content that is developed is designed to include as many keywords as possible to enable the search engine in generating search results that positions the company at the top.
Hence, it is vital to generate or look for keywords increase you want an increasing level of traffic visiting your website daily. At KDC we our content experts in association with the SEO experts generate the best and unique content to enhance the search results. As contents sometimes are affected with plagiarisms, they can affect the website ranking in search results and hence we always come-up with our own unique content to deliver the best results.
Link Development
This is a process where we can implement reverse engineering of existing backlinks and the status of the Keyword ranking and then prepare the further course of action in creating relevant backlinks.
Most of the internet marketing companies are resorting to erroneous techniques by creating irrelevant back links, poor and low PA & DA links for the website they want to rank. But their process does not generate the desired results as per the google link building algorithm. Five good back links is much better than five hundred poor links. So here the quality and industry related links generation is the most important point to be obtained from google.
Our expert's from KDC Technologies are always up-to-date with google algorithm updates and generate relevant and powerful links for a varied type of websites. That's the reason clients have immeasurable trust on KDC Technologies for exceptional quality service and cost effective tricks in generating back links to explore the business potential, revenue, web page or traffic.
Code Optimization
Error fixing in website is the most important aspect of SEO. Unless trouble shooting of on-page optimization is successfully done, the search engine can't place web page to the top, as Google and other search engines change their algorithm day by day and it's gets even more difficult to rank any website. Our SEO experts are highly experienced in concluding any tasks related to coding part like html,  css,  java etc.
So we the SEO professionals at KDC Technologies, always take the next step only after completing the steps that needs to be fixed.  There is no shortcut to place the web page into top of the search result in organic way. So code optimization is mandatory for a website to generate good traffic and visitors flow.
Top